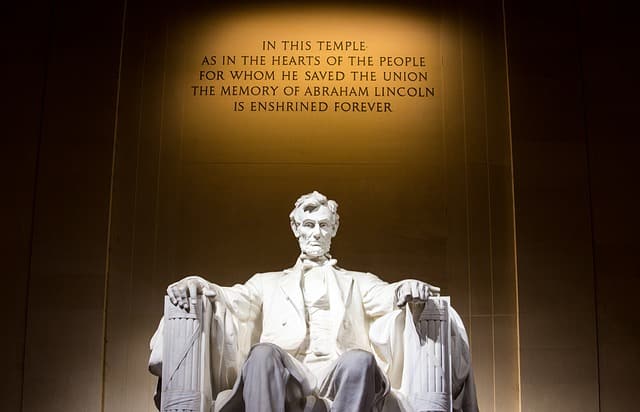 Coisas para fazer em Washington DC
Whether it's your first time in the United State's capital, or you frequent "The District," Washington, District of Columbia (DC) has something for everyone — soaking up world-renowned museums and historical monuments, exploring the miles upon miles of the Potomac River or indulging in some of the best wine and dining in the nation.
The endless choices can make it difficult to decide where and how you spend your time in DC, but regardless of why you're here — a business trip, passing through, achieving educational pursuits or a quick getaway with friends or family — there is something for you.
Spend a day learning at some of the most well-known museums, galleries and zoos in the world
DC is home to some of the most famous museums in both the United States and the world. The 20 history, science, art and culture museums and galleries are collectively known as the Smithsonian Institution and also include a zoo.
The best part is that all Smithsonian Institution museums are free. But with so many museums, galleries and a zoo, it can be difficult to choose what to visit. Though you can't really go wrong, some of the most well-known are:
O National Museum of Natural History (NMNH) is the museum to go to if you want to learn anything and everything about the planet. Exhibits regularly change, but you can always find something about astronomy, science, paleontology, energy, chemistry, gems and minerals, sea life, wildlife and more. The museum also leads research on the natural world and addresses current topics like biological diversity and global climate change. You could easily spend two or three days visiting the different exhibits, though most people spend at least one there.
O National Museum of African American History and Culture is one of the most recent museums to join the Smithsonian Institution. It is the nation's largest and most comprehensive museum devoted to the African American story and its impact on both American and world history. The museum highlights the contributions of African Americans through over 37,000 objects and has thousands upon thousands of members.
O American Art Museum and Renwick Gallery (SAAM) is the nation's first collection of American art and home to one of the largest and most inclusive collections of American art in the world. More than 7,000 artists from the colonial period to modern times are represented through photography, contemporary folk and self-taught art, African American art, Latino art, video games and more.
O Smithsonian's National Zoo and Conservation Biology Institute is the leading conservation institute and zoo in the nation, with over 3,200-acres dedicated toward saving wildlife and habitats of some of the world's most endangered animals. Alongside conservation, over 200 scientists work together to find and share knowledge that will help the species in survival and the recovery of their habitats.
Go on a memorial treasure hunt at the National Mall
Beyond its museums, DC is home to numerous national memorials housed at the National Mall. They are more than just monuments; they are a crucial part of American history.
Begin your tour at the WWII Memorial, which honors the 16 million men and women who served during the second world war. Then head to the Washington Monument,  which towers 555.5-feet in the air and acts as a reminder of America's founding father, George Washington. Make a stop at the Vietnam Veterans War Memorial, where you can commemorate the more than 58,000 fallen soldiers. And finish your tour at the Lincoln Memorial, which not only symbolizes President Lincoln's important role during the civil war but is also where Martin Luther King Jr. gave his famous 'I Have a Dream' speech.
Learn about American history while it's in the making
DC is not only the place to go to learn about America's culture and history, the city is also the perfect place to observe it in the making. As the nation's capital, it is home to some of America's most important government offices and buildings — including the president's house — and you can even take tours and visit them:
The White House is the United State President's primary workplace and residence since 1791, when George Washington began the building process — every president since the second, John Adams, has lived in it. Free tours are provided on a first come, first served basis and it's recommended that you book one between 21 to three months in advance.
O Pentagon is the headquarters for the Department of Defense (DOD) and is located across the Potomac River in Arlington, Virginia. Though it is America's primary national security defense center, you can take a 60-minute tour of it for free. You have to request a slot between 14 to 90 days before you plan on visiting. On the day of your tour, make sure you check in at least 60 minutes before it begins to allow enough time for security checks.
The United States Capitol (the Capitol Building) is home to America's Congress and its legislative branch (the Senate and the House of Representatives) — it is the heart of the United States. Free tours of public spaces are available; it is required to apply within 90 days of the desired date.
O Library of Congress (LOC) is home to America's official library, with 168 million items in 470 languages. It also operates as the Congressional Research Service, where it provides "confidential, objective and authoritative research and analysis to help inform the legislative debate;" it is the backbone of America's constitution. It is most notably home to the most extensive collection of legal materials, films, maps, sheet music and sound recordings in the world. The LOC is open to the public and offers free tours.
O Supreme Court is the United State's highest level of the judiciary branch and upholds the laws set by America's constitution. It is open to the public and allows people to attend public sessions, where the Justices hear two, one-hour oral arguments. The Supreme Court does not offer guided tours.
Escape tourists at Georgetown
George Town is one of DC's hippest neighborhoods. The suburb is home to quaint bistros, boutiques and art galleries that are spattered among the colonial townhomes. It is also Georgetown University's stomping grounds and offers a charming, small college town ambiance in a major metropolitan area.
For live jazz music and drinks, head to Blues Alley Club — a music venue modeled after the roaring twenties' jazz clubs. As America's oldest continuing jazz supper club, Blues Alley hosts live jazz music almost every night and has seen legendary performances like Ella Fitzgerald and Tony Bennett. Make sure you pay attention, though, because the club is hidden in an alleyway.
However, one of the hippest areas in Georgetown — where you can find the best art, food and shopping — is Book Hill, a charming neighborhood known for independent galleries, restaurants and boutiques. While there, make sure you spend time in some of the dozens of galleries, which are home to both contemporary and classic art pieces. Or if you rather go for a stroll, the area has one of the best views of the Potomac River and Virginia in DC.
Take a day trip to Shenandoah Valley and drink some of America's best wine and ciders while learning about the Civil War
Some of America's finest wines and hard ciders are only a 75-minute drive from downtown DC in Virginia's Shenandoah Valley.
The region is also known for its quaint colonial towns and its crucial role during the Civil War, which makes it one of the best places to learn something new while also drinking fine wines.
Some of Shenandoah Valley's most exceptional and unique vineyards, wineries and cideries are:
Beyond its unparalleled vineyards, Shenandoah Valley is home to numerous apple orchards that take carefully selected apples to make artisan hard ciders. One of the first cideries, Old Hill Cider, is known for its delicious and flavorful ciders brewed in the traditional American style and with 100 percent organic apple juice. Old Hill Cider is the perfect place to go on a cider tasting or a family picnic, where you can take a tour and pick apples.
Wisteria Farm and Vineyard is the perfect place to go for a relaxing picnic while also enjoying some of the best wines in the region. Explore the still operational farm and vineyard, which is nestled on the western slopes of the Blue Ridge Mountains, during the summer.Or stay warm and sip a selection of wines by one of the fireplaces during colder months.
Barren Ridge Vineyard is home to the Valley's most premier wines. Located on a former apple orchard, Blue Ridge Vineyard features award-winning wines that can be sampled in its tasting room, complimentary tours of the vineyard, and a dog-friendly patio with a view of the rolling countryside.
Explore the city by water on the Potomac River
DC gets hot and humid, especially during the summer when temperatures soar above 90 degrees Fahrenheit (32 degrees Celsius). However, cooling off is easy thanks to the Potomac River, which runs through the city.
The river's biggest draws are its water activities and the trails that snake along the shoreline. On-the-water highlights include kayaking, canoeing, paddleboarding and cruises. Off-the-water highlights are taking a walk, going on a jog or run and hopping on a bicycle.
The Potomac is also the perfect place to get into nature: go birdwatching, catch a fish, spot reptiles and amphibians or observe a variety of flora and fauna. And, if you're lucky, you might be able to spot an Atlantic bottlenose dolphin during warmer months.
Watch a baseball game during the MLB, one of America's greatest pastimes
Major league Baseball (MLB) is America's favorite pastime, and there is no better place to watch it than in the nation's capital.
Though the Washington Nationals, DC's official professional baseball team, might not be the best in the nation, it still gives you that "Take Me Out to the Ball Game" experience that everyone should have at least once in their lives.
The season usually goes from late March to late September, though you'll have to check the schedule to see if they are playing at the Nationals Park stadium. Ticket prices usually range anywhere from $8 to $2593.
National Cherry Blossom Festival Parade
The National Cherry Blossom Festival Parade is one of DC's most vibrant and beautiful annual events.
The festival and parade happen every spring as DC comes to life with thousands of cherry tree blossoms; the 3,000 plus trees were a gift from Tokyo's mayor in 1912, and the festival is a way of honoring that gift. The National Cherry Blossom Festival Parade always aligns with "peak bloom," which happens toward the end of March and start of April.
The one-day event is free to the public, though you can purchase "Grandstand" seating for $20–30, which provides you with the best seating in town.
Getting around town (executive car service, Washington, DC)
It's a well known fact that Washington, DC is a driving city.
It can take hours to drive from one destination to another and public transportation and parking are limited, especially during the holidays or when events are happening. Using a Washington, DC limo service to take you to your next activity is the easiest and most comfortable option.
WWLIMO LLC is the lead Washington, DC charter bus and executive car service. Whether you need airport transportation the from Washington Dulles International Airport or a car service to drive you to every point of interest, see everything the right way — from the seats of our top notch chauffeured vehicles.